AHS International is organizing a tour of the National Aeronautics and Space Administration's Langley Research Center, with a trip to the US Army Transportation Museum and an overview of US Army's Aviation Development Directorate - Aviation Advanced Technology Directorate (AATD).
A visit to the NASA facilities in the morning is planned to be followed by a trip to the Army facilities in the afternoon, as part of a single bus tour. Details are still pending for the Army portion of the trip and will be announced when settled.
Please note: there are limited number of seats available. Tour participants must be registered for the Forum before signing up for the tour. First come/first served priority will only be given to those who have already registered for the Forum.
NASA Langley Research Center
Planned facilities:

Lunch at the NASA Cafeteria (pay on your own)
Opportunity to visit the NASA Exchange shop
Restrictions for visitors to NASA Langley Research Center:
US Persons: No later than April 17, interested tour participants must register for the Forum and provide the following via email: full name, email address, employer. Sign-ups are first come/first served. Before entry to the Center, US Citizens must show photo ID from government agency, such as driver's license, passport, or military ID. Non-citizens who have

permanent resident status

(i.e.

green card

holder), must bring proper legal identification.

Non-US Citizens: No later than February 13, individuals interested in going on the tour must register for the Forum and provide the following via email: full name, country of citizenship, email address, employer. Sign-ups are first come/first served. NASA will contact visitors and request additional information by Feb. 23. By March 2, visitors must provide additional requested information to NASA for access, including several forms and a copy of passport and visa. NASA will review the visit requests and notify the visitors that their visit has been approved before the tour date. Before entry to the Center, non-US citizens must show passport and visa (if visa is required).
The bus will be inspected by security before entering the Center. All property and bags are subject to inspection. No animals are allowed on base except those certified to assist persons with disabilities. The same restrictions on items as at an airport apply to accessing NASA. Example of items that are not allowed on base and are subject to confiscation include (but is not limited to): ammunition, firearms, and explosives. No open toed shoes are permitted. Cell phones and laptops are allowed on the center, however their use is allowed only outside NASA buildings. No use is allowed inside NASA buildings (including the cafeteria). Photography is allowed at most facilities, but guidance will be provided on the day of the tour for the specific facilities. Smoking is not allowed in any building and only in designated areas outside the buildings.
Ft. Eustis / US Army Transportation Museum
Participants will receive a guided bus tour of Ft. Eustis by AATD rotorcraft technical personnel. Due to security restrictions, there will be no stops and no photography permitted.
Tour participants will have approximately 90 minutes for exclusive access to the US Army Transportation Museum. A welcome presentation on AATD will be given by the AATD Commander, COL Steve Braddom. An overview of Ft. Eustis and its history, will be given by the Museum Director.
The US Army Transportation Museum artifact collection numbers just under 7,000 objects, plus another 1,000 exhibit props. The museum collection at Ft. Eustis includes nearly 100 macro artifacts ranging from planes, helicopters, tugboats and landing craft to trucks, jeeps, hovercraft and trains.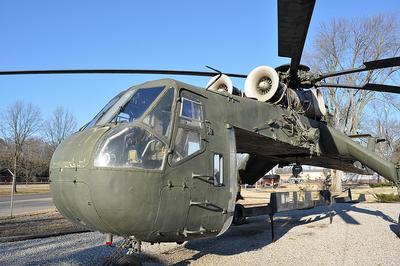 The vertical flight
collection
includes:
Avro Canada VZ-9 Avrocar
Bell H-13E Sioux
Bell UH-1B Huey
Doak VZ-4 tiltduct
Hiller H-23B Raven
Hughes TH-55A Osage
Piasecki VZ-8P Airgeep
Piasecki-Vertol CH-21C Shawnee
Sikorsky CH-37B Mojave
Sikorsky H-19C Chickasaw
Sikorsky VH-34C Choctaw
Sikorsky YCH-54A Tarhe aircrane
---
Updated 4/20/15