Memoirs of our Pioneers: A Celebration of Their Life and Times
Franklin Institute, 222 N 20th St, Philadelphia, PA 19103
Monday, May 13, 2019 | 6:00-9:00 PM — Registration begins at 6:00 PM
Attire: Business or uniform
$50 per person (limit 1) | $75 for the second guest ticket (limit 1)
This event is generously sponsored by Piasecki Aircraft Corporation and the Pitcairn Family Foundation.
This sign-up page is for active Philadelphia Chapter members only. Please log in with your member credentials at the top right corner of this page to activate the registration process. If you are attending Forum 75, please purchase the tickets here as a part of your registration. Please DO NOT register here.

This special evening begins at 6:30 PM with a facilitated panel discussion featuring immediate family and friends of the original helicopter industry pioneers, followed by an invited reception at 7:45PM with Mr. Neil Weaver, Executive Deputy Secretary at the Pennsylvania Department of Community and Economic Development (DCED), in Franklin Hall.Tickets are limited!
Panel Session:
Dan Kurkjian – Son of Haig Kurkjian, founder of Haig K Aircraft and close friend of Arthur Young, founder of Bell Helicopter
John Piasecki – President & CEO Piasecki Aircraft Corporation, son of Frank Piasecki, founder of Piasecki Aircraft Corporation
Duncan Pitcairn – Son of John Pitcairn, founder of Pitcairn Aircraft Company
Sergei Sikorsky – Son of Igor Sikorsky, founder of Sikorsky Aircraft
Dr. Allan Bleecker – Son of Maitland Bleecker, inventor, author, and rotorcraft visionary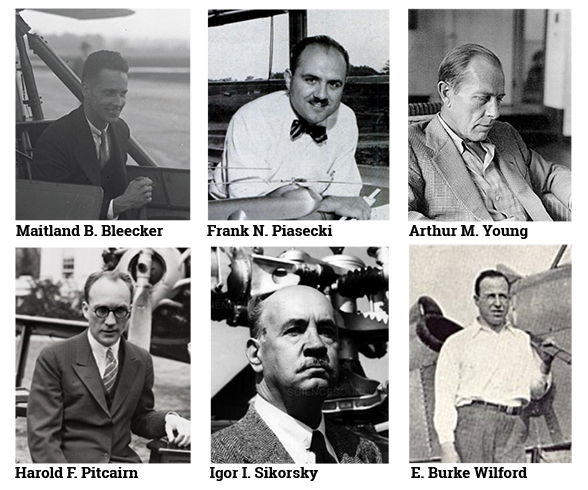 Purchase your tickets
Thanks for your interest in the Forum 75 Franklin Institute Historic Evening! This event is open to current VFS Philadelphia Chapter members only. If you are a member, please log in using the form at the top of this page. If not, please consider joining or renewing your membership!