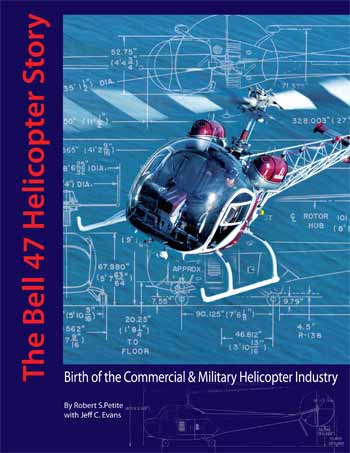 AHS International is pleased to announce the latest addition to the Book Department of the AHS Online Store: a limited number of signed copies of the new book, The Bell 47 Helicopter Story – Birth of the Commercial and Military Helicopter Industry, by Robert S. (Bob) Petite and Jeffrey C. Evans.
This incredible 750 page tome details every model of the iconic Bell 47, and chronicles its entire history. 12 years in the making, this is the reference that no helicopter enthusiast, engineer or historian should be without.
List price is $89.95. AHS International members can log in to receive the special Member price of $75.00! Order your signed copy today!
Read the Vertiflite book review by Parrish Kelley, son of Bartram Kelley (Bell Helicopter's first chief engineer), and Todd Carlson, son of Floyd Carlson (its first chief pilot).
You can't buy this book on Amazon! Find out more about the history and background of this landmark publication from the authors.
Posted March 6, 2014.