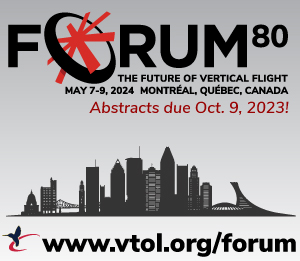 Welcome to the Vertical Flight Library & Online Store!
Current product count in the Library: 14836 items, with 14502 technical papers! We are constantly adding new items to the store, so check back often.
The Vertical Flight Library
includes downloadable papers from nearly all Forum Proceedings from 1943 to today, as well as papers from more than 100 Technical Meetings and 65 years of
Vertiflite
magazine! Note: the
Journal of the AHS
is hosted separately — please go to
www.vtol.org/journal
.
The VFS Online Store
includes Forum and Technical Meeting proceedings CD-ROMs and USB drives, books and Vertical Flight Society merchandise that require shipping.
Note:
if you are a Vertical Flight Society member and are not seeing the Member Price, please
log in
first. If you are not a member,
why not join us
? You'll receive special Members Only pricing and
much more
.
Want unlimited downloads?
Check out our
site licenses
! If you are from an educational institution or organization that already has a site license with the Vertical Flight Library (previously called the "AHS Online Store"), please visit your
organization's start page
before adding items to your shopping cart.
The Vertical Flight Society is the global resource for information on vertical flight technology.
NEW: Check out the latest addition to the Vertical Flight Library!
Vertiflite, September/October 2021,
Letters
Commentary: Decision Time for FARA -

Mike Hirschberg

Leadership Moves
Industry Briefs
Coming to Terms: Model-Based -

Daniel I. Newman

Washington Report
Making FVL -

Frank Colucci

Air Force Challenges Industry for High-Speed VTOL -

VFS Staff

RASCAL Re-Ups -

Frank Colucci

41st Nikolsky Lecture: Safety by Design -

Fabio Nannoni

VFS eVTOL Directory Reaches 500 Concepts
Canada and Quebec Fund "Green" Aerospace Initiatives -

Kenneth I. Swartz

Awards: 2021 Alfred Gessow Best Paper Award -

VFS Staff

CAE and Volocopter to Create Global eVTOL Pilot Training Program -

Kenneth I. Swartz

Future Fuel: HyPoint's Hydrogen Revolution -

Robert W. Moorman

Jaunt's Journey -

Kenneth I. Swartz

Hughes Helicopter's Culver City Plant Wins Heritage Site Award -

Paul J. Fardink

Fairey Ultra Light G-AOUJ/XJ928 -

Elfan ap Rees

VFS Australia Chapter: News from Downunder -

Robert Hood

Tier 1 Engineering Reveals its Second Battery-Electric Robinson R44 Helicopter -

Kenneth I. Swartz

Joby Rings in a New Era -

VFS Staff

15th Annual Electric Aircraft Symposium Is Another Great Success -

David Diller

EAA AirVenture 2021's Vertical Flight & Electric Aviation Trajectory -

Rex Alexander

Electric VTOL News
Educational Initiatives: 2020-2021 Student Design Competition Winners
Virtual Meetings - Continuing to Serve -

Jim Sherman

Leadership Profile: Dr. Jayant Sirohi
VLRCOEs Renewed -

VFS Staff

Society Update
Calendar of Events
List price: $30.00
(Added to the VFS Library on Sep 1, 2021).
Are you a VFS member? Log in to receive the member price of $0.00 on this item! Not a member? Check out the benefits of membership and consider joining today!