A Numerical Study of Sand Particle Distribution, Density and Sand Shape Effects on the Scavenge Efficiency of Engine Inlet Particle Separator Systems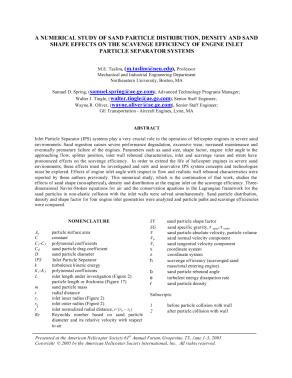 A Numerical Study of Sand Particle Distribution, Density and Sand Shape Effects on the Scavenge Efficiency of Engine Inlet Particle Separator Systems
Presented at Forum 61
11 pages
SKU # : 61-2005-000068

Your Price : $30.00

Join or log in to receive the member price of $15.00!
A Numerical Study of Sand Particle Distribution, Density and Sand Shape Effects on the Scavenge Efficiency of Engine Inlet Particle Separator Systems
Authors / Details: Taslim, M.E.; Spring, Samuel D.; Tingle, Walter J.; Oliver, Wayne.R.
1
Recently Viewed Items
Popular Products