A Progressive Damage Model for Fatigue Analysis of Woven Fabric Composites
Jim Lua, Dinh Chi Pham, Global Engineering, Materials, Inc.; Anisur Rahman, Nam D. Phan, Naval Air Warfare Center (PAX)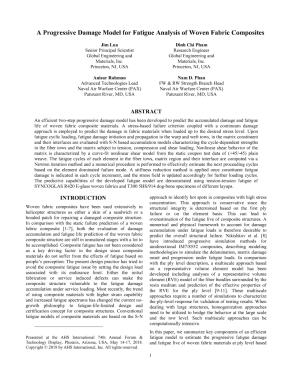 A Progressive Damage Model for Fatigue Analysis of Woven Fabric Composites
Presented at Forum 74
8 pages
SKU # : 74-2018-1352

Your Price : $30.00

Join or log in to receive the member price of $15.00!
A Progressive Damage Model for Fatigue Analysis of Woven Fabric Composites
Authors / Details: Jim Lua, Dinh Chi Pham, Global Engineering and Materials, Inc.; Anisur Rahman, Nam D. Phan, Naval Air Warfare Center (PAX)
Abstract
An efficient two-step progressive damage model has been developed to predict the accumulated damage and fatigue life of woven fabric composite materials. A stress-based failure criterion coupled with a continuum damage approach is employed to predict the damage in fabric materials when loaded up to the desired stress level. Upon fatigue cyclic loading, fatigue damage initiation and propagation in the warp and weft tows, in the matrix constituent and their interfaces are evaluated with S-N based accumulation models characterizing the cycle-dependent strengths in the fiber tows and the matrix subject to tension, compression and shear loading. Nonlinear shear behavior of the matrix is characterized by a curve-fit nonlinear shear model from the static coupon test data of (+45/-45) plain weave. The fatigue cycles of each element in the fiber tows, matrix region and their interface are computed via a Newton iteration method and a numerical procedure is performed to effectively estimate the next proceeding cycles based on the element dominated failure mode. A stiffness reduction method is applied once constituent fatigue damage is indicated in each cycle increment, and the stress field is updated accordingly for further loading cycles. The predictive capabilities of the developed fatigue model are demonstrated using tension-tension fatigue of SYNCOGLAS R420 E-glass woven fabrics and T300 5HS/914 dog-bone specimens of different layups.
Recently Viewed Items
Popular Products