A Study in Reducing the Cost of Vertical Flight with Electric Propulsion
Michael J. Duffy, Sean Wakayama, Ryan Hupp, Roger Lacy, Matt Stauffer, The Boeing Company
May 8, 2017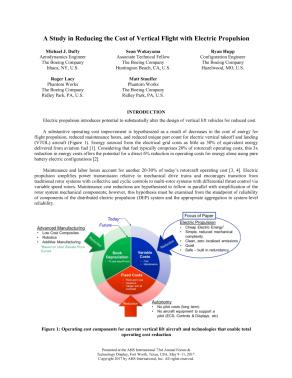 A Study in Reducing the Cost of Vertical Flight with Electric Propulsion
Presented at Forum 73
18 pages
SKU # : 73-2017-0155

Your Price : $30.00

Join or log in to receive the member price of $15.00!
A Study in Reducing the Cost of Vertical Flight with Electric Propulsion
Authors / Details: Michael J. Duffy, Sean Wakayama, Ryan Hupp, Roger Lacy, Matt Stauffer, The Boeing Company
Abstract
Electric propulsion introduces potential to substantially alter the design of vertical lift vehicles for reduced cost. A substantive operating cost improvement is hypothesized as a result of decreases in the cost of energy for flight propulsion, reduced maintenance hours, and reduced unique part count for electric vertical takeoff and landing (VTOL) aircraft (Figure 1). Energy sourced from the electrical grid costs as little as 30% of equivalent energy delivered from aviation fuel [1]. Considering that fuel typically comprises 20% of rotorcraft operating costs, this 3x reduction in energy costs offers the potential for a direct 6% reduction in operating costs for energy alone using pure battery electric configurations [2]. Maintenance and labor hours account for another 20-30% of today's rotorcraft operating cost [3 , 4]. Electric propulsion simplifies power transmission relative to mechanical drive trains and encourages transition from traditional rotor systems with collective and cyclic controls to multi-rotor systems with differential thrust control via variable speed rotors. Maintenance cost reductions are hypothesized to follow in parallel with simplification of the rotor system mechanical components; however, this hypothesis must be examined from the standpoint of reliability of components of the distributed electric propulsion (DEP) system and the appropriate aggregation to system-level reliability.
Recently Viewed Items
Popular Products