A System for Autonomous Rotorcraft Dual-Lift Flight Research
Marc D. Takahashi, Matthew S. Whalley, Marcos G. Berrios, US Army Aviation Development Directorate Aviation & Missile Research; Gregory J. Schulein, Ames Research Center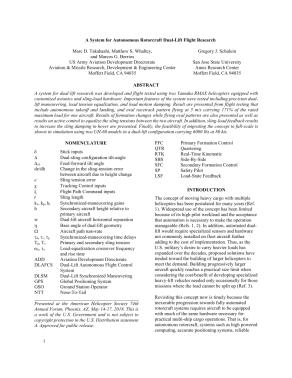 On Sale: A System for Autonomous Rotorcraft Dual-Lift Flight Research
Presented at Forum 74 - Best Paper for this session
18 pages
SKU # : 74-2018-0083



Your Price : $30.00

Join or log in to receive the member price of $5.00!
A System for Autonomous Rotorcraft Dual-Lift Flight Research
Authors / Details: Marc D. Takahashi, Matthew S. Whalley, Marcos G. Berrios, US Army Aviation Development Directorate Aviation & Missile Research; Gregory J. Schulein, Ames Research Center
Abstract
A system for dual-lift research was developed and flight tested using two Yamaha RMAX helicopters equipped with customized avionics and sling-load hardware. Important features of the system were tested including precision dual-lift maneuvering, load tension equalization, and load motion damping. Result are presented from flight testing that include autonomous takeoff and landing, and oval racetrack pattern flying at 5 m/s carrying 171% of the rated maximum load for one aircraft. Results of formation changes while flying oval patterns are also presented as well as results on active control to equalize the sling tensions between the two aircraft. In addition, sling-load feedback results to increase the sling damping in hover are presented. Finally, the feasibility of migrating the concept to full-scale is shown in simulation using two UH-60 models in a dual-lift configuration carrying 6000 lbs at 80 kts.