Acoustic Characterization and Prediction of Representative, Small-Scale Rotary-Wing Unmanned Aircraft System Components
Nikolas S. Zawodny, D. Douglas Boyd Jr.,, Casey L. Burley, NASA Langley Research Center
May 17, 2016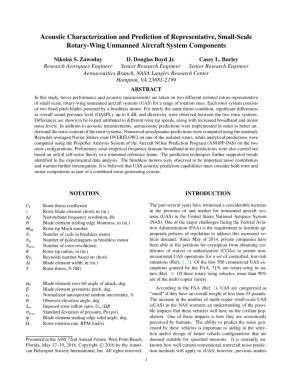 Acoustic Characterization and Prediction of Representative, Small-Scale Rotary-Wing Unmanned Aircraft System Components
Presented at Forum 72
15 pages
SKU # : 72-2016-044

Your Price : $30.00

Join or log in to receive the member price of $15.00!
Acoustic Characterization and Prediction of Representative, Small-Scale Rotary-Wing Unmanned Aircraft System Components
Authors / Details: Nikolas S. Zawodny, D. Douglas Boyd Jr., and Casey L. Burley, NASA Langley Research Center
Abstract
In this study, hover performance and acoustic measurements are taken on two different isolated rotors representative of small-scale, rotary-wing unmanned aircraft systems (UAS) for a range of rotation rates. Each rotor system consists of two fixed-pitch blades powered by a brushless motor. For nearly the same thrust condition, significant differences in overall sound pressure level (OASPL), up to 8 dB, and directivity were observed between the two rotor systems. Differences are shown to be in part attributed to different rotor tip speeds, along with increased broadband and motor noise levels. In addition to acoustic measurements, aeroacoustic predictions were implemented in order to better understand the noise content of the rotor systems. Numerical aerodynamic predictions were computed using the unsteady Reynolds-averaged Navier Stokes code OVERFLOW2 on one of the isolated rotors, while analytical predictions were computed using the Propeller Analysis System of the Aircraft Noise Prediction Program (ANOPP-PAS) on the two rotor configurations. Preliminary semi-empirical frequency domain broadband noise predictions were also carried out based on airfoil self-noise theory in a rotational reference frame. The prediction techniques further supported trends identified in the experimental data analysis. The brushless motors were observed to be important noise contributors and warrant further investigation. It is believed that UAS acoustic prediction capabilities must consider both rotor and motor components as part of a combined noise-generating system.
Recently Viewed Items
Popular Products