Advanced Nondestructive Evaluation and Sensing Methods for High Temperature Propulsion Materials
Anindya Ghoshal, Raymond Brennan, Muthuvel Murugan, Michael Shiao, Marc Pepi, US Army Research Laboratory; Erik Nykwest, University of Connecticut; Kevin Kerner, ADD-AMRDEC; Michael Walock, US Army Research Lab
May 17, 2016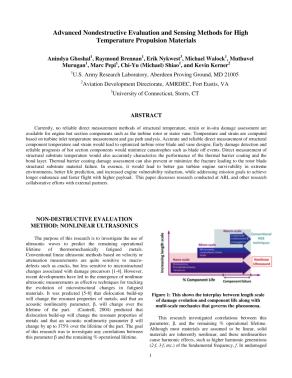 Advanced Nondestructive Evaluation and Sensing Methods for High Temperature Propulsion Materials
Presented at Forum 72
10 pages
SKU # : 72-2016-233

Your Price : $30.00

Join or log in to receive the member price of $15.00!
Advanced Nondestructive Evaluation and Sensing Methods for High Temperature Propulsion Materials
Authors / Details: Anindya Ghoshal, Raymond Brennan, Muthuvel Murugan, Michael Shiao, Marc Pepi, US Army Research Laboratory; Erik Nykwest, University of Connecticut; Kevin Kerner, ADD-AMRDEC; Michael Walock, US Army Research Lab
Abstract
Currently, no reliable direct measurement methods of structural temperature, strain or in-situ damage assessment are available for engine hot section components such as the turbine rotor or stator vane. Temperature and strain are computed based on turbine inlet temperature measurement and gas path analysis. Accurate and reliable direct measurement of structural component temperature and strain would lead to optimized turbine rotor blade and vane designs. Early damage detection and reliable prognosis of hot section components would minimize catastrophes such as blade off events. Direct measurement of structural substrate temperature would also accurately characterize the performance of the thermal barrier coating and the bond layer. Thermal barrier coating damage assessment can also prevent or minimize the fracture leading to the rotor blade structural substrate material failure. In essence, it would lead to better gas turbine engine survivability in extreme environments, better life prediction, and increased engine vulnerability reduction, while addressing mission goals to achieve longer endurance and faster flight with higher payload. This paper discusses research conducted at ARL and other research collaborative efforts with external partners.
Recently Viewed Items
Popular Products