Application Issues for In-Flight Tracking Control Using Trailing Edge Flaps
Frank A. King, Alexander Steinwandel, Walter Fichter, University of Stuttgart
May 17, 2016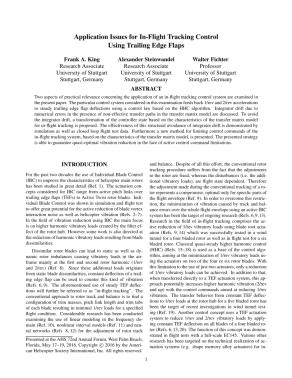 Application Issues for In-Flight Tracking Control Using Trailing Edge Flaps
Presented at Forum 72
12 pages
SKU # : 72-2016-049

Your Price : $30.00

Join or log in to receive the member price of $15.00!
Application Issues for In-Flight Tracking Control Using Trailing Edge Flaps
Authors / Details: Frank A. King, Alexander Steinwandel and Walter Fichter, University of Stuttgart
Abstract
Two aspects of practical relevance concerning the application of an in-flight tracking control system are examined in the present paper. The particular control system considered in this examination feeds back 1/rev and 2/rev accelerations to steady trailing edge flap deflections using a control law based on the HHC algorithm. Integrator drift due to numerical errors in the presence of non-effective transfer paths in the transfer matrix model are discussed. To avoid the integrator drift, a transformation of the controller state based on the characteristics of the transfer matrix model for in-flight tracking is proposed. The effectiveness of this structural avoidance of integrator drift is demonstrated by simulation as well as closed loop flight test data. Furthermore a new method for limiting control commands of the in-flight tracking system, based on the characteristics of the transfer matrix model, is presented. The presented strategy is able to guarantee quasi-optimal vibration reduction in the face of active control command limitations.
Recently Viewed Items
Popular Products