Coupled CFD/CSD Study of a Flexible MAV-Scale Flapping Wing in the Hover Flight Condition
James L. Lankford, Inderjit Chopra
May 8, 2017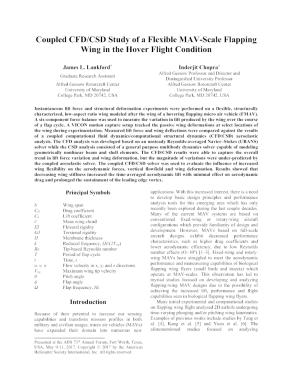 Coupled CFD/CSD Study of a Flexible MAV-Scale Flapping Wing in the Hover Flight Condition
Presented at Forum 73
16 pages
SKU # : 73-2017-0256

Your Price : $30.00

Join or log in to receive the member price of $15.00!
Coupled CFD/CSD Study of a Flexible MAV-Scale Flapping Wing in the Hover Flight Condition
Authors / Details: James L. Lankford, Inderjit Chopra
Abstract
Instantaneous lift force and structural deformation experiments were performed on a flexible, structurally characterized, low-aspect ratio wing modeled after the wing of a hovering flapping micro air vehicle (FMAV). A six-component force balance was used to measure the variation in lift produced by the wing over the course of a flap cycle. A VICON motion capture setup tracked the passive wing deformations at select locations of the wing during experimentation. Measured lift force and wing deflections were compared against the results of a coupled computational fluid dynamics/computational structural dynamics (CFD/CSD) aeroelastic analysis. The CFD analysis was developed based on an unsteady Reynolds-averaged Navier-Stokes (URANS) solver while the CSD analysis consisted of a general purpose multibody dynamics solver capable of modeling geometrically nonlinear beam and shell elements. The CFD/CSD results were able to capture the overall trend in lift force variation and wing deformation, but the magnitude of variations were under-predicted by the coupled aeroelastic solver. The coupled CFD/CSD solver was used to evaluate the influence of increased wing flexibility on the aerodynamic forces, vortical flowfield and wing deformation. Results showed that decreasing wing stiffness increased the time-averaged aerodynamic lift with minimal effect on aerodynamic drag and prolonged the sustainment of the leading edge vortex.
Recently Viewed Items
Popular Products