Designing the Bell 525 Pylon Bipod Mount Test Fixture
Siddhartha Mukherjee, Bell Helicopter - Textron India Private Limited; Alejandro Barbarin, Bell Helicopter Textron Inc
May 17, 2016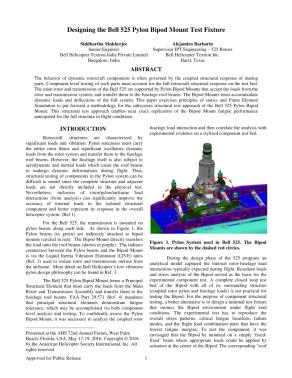 Designing the Bell 525 Pylon Bipod Mount Test Fixture
Presented at Forum 72
9 pages
SKU # : 72-2016-061

Your Price : $30.00

Join or log in to receive the member price of $15.00!
Designing the Bell 525 Pylon Bipod Mount Test Fixture
Authors / Details: Siddhartha Mukherjee, Bell Helicopter - Textron India Private Limited; Alejandro Barbarin, Bell Helicopter Textron Inc
Abstract
The behavior of dynamic rotorcraft components is often governed by the coupled structural response of mating parts. Component level testing of such parts must account for the full rotorcraft structural response on the test bed. The main rotor and transmission of the Bell 525 are supported by Pylon Bipod Mounts that accept the loads from the rotor and transmission system, and transfer them to the fuselage roof beams. The Bipod Mounts must accommodate dynamic loads and deflections of the full system. This paper exercises principles of statics and Finite Element Simulation to put forward a methodology for the subsystem structural test approach of the Bell 525 Pylon Bipod Mount. This structural test approach enables near exact replication of the Bipod Mount fatigue performance anticipated for the full structure in flight conditions.
Recently Viewed Items
Popular Products