Experimental and Computational Investigation of a Linearly Pitching NACA 0012 in Reverse Flow
Luke Smith, Andrew Lind, Anya Jones, University of Maryland; Marilyn Smith, Kevin Jacobson, Georgia Institute of Technology
May 17, 2016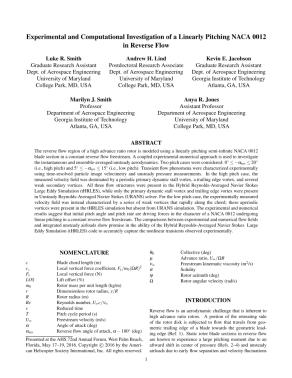 Experimental and Computational Investigation of a Linearly Pitching NACA 0012 in Reverse Flow
Presented at Forum 72
20 pages
SKU # : 72-2016-304

Your Price : $30.00

Join or log in to receive the member price of $15.00!
Experimental and Computational Investigation of a Linearly Pitching NACA 0012 in Reverse Flow
Authors / Details: Luke Smith, Andrew Lind and Anya Jones, University of Maryland; Marilyn Smith and Kevin Jacobson, Georgia Institute of Technology
Abstract
The reverse flow region of a high advance ratio rotor is modeled using a linearly pitching semi-infinite NACA 0012 blade section in a constant reverse flow freestream. A coupled experimental-numerical approach is used to investigate the instantaneous and ensemble-averaged unsteady aerodynamics. Two pitch cases were considered. Transient flow phenomena were characterized experimentally using time-resolved particle image velocimetry and unsteady pressure measurements. In the high pitch case, the measured velocity field was dominated by a periodic primary dynamic stall vortex, a trailing edge vortex, and several weak secondary vortices. All three flow structures were present in the Hybrid Reynolds-Averaged Navier Stokes Large Eddy Simulation (tHRLES), while only the primary dynamic stall vortex and trailing edge vortex were present in Unsteady Reynolds-Averaged Navier Stokes (URANS) solver. For the low pitch case, the experimentally measured velocity field was instead characterized by a series of weak vortices that rapidly along the chord; these aperiodic vortices were present in the tHRLES simulation but absent from URANS simulation. The experimental and numerical results suggest that initial pitch angle and pitch rate are driving forces in the character of a NACA 0012 undergoing linear pitching in a constant reverse flow freestream. The comparisons between experimental and numerical flow fields and integrated unsteady airloads show promise in the ability of the Hybrid Reynolds-Averaged Navier Stokes Large Eddy Simulation (tHRLES) code to accurately capture the nonlinear transients observed experimentally.
Recently Viewed Items
Popular Products