Handling Qualities Assessment of a Pilot Cueing System for Autorotation Maneuvers
Jonathan Rogers, Laura Strickland, Caroline Repola, Michael Jump, Neil Cameron, Thomas Fell
May 8, 2017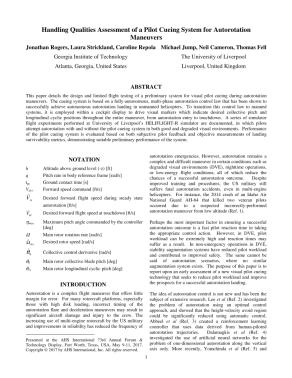 Handling Qualities Assessment of a Pilot Cueing System for Autorotation Maneuvers
Presented at Forum 73
12 pages
SKU # : 73-2017-0288

Your Price : $30.00

Join or log in to receive the member price of $15.00!
Handling Qualities Assessment of a Pilot Cueing System for Autorotation Maneuvers
Authors / Details: Jonathan Rogers, Laura Strickland, Caroline Repola, Michael Jump, Neil Cameron, Thomas Fell
Abstract
This paper details the design and limited flight testing of a preliminary system for visual pilot cueing during autorotation maneuvers. The cueing system is based on a fully-autonomous, multi-phase autorotation control law that has been shown to successfully achieve autonomous autorotation landing in unmanned helicopters. To transition this control law to manned systems, it is employed within a cockpit display to drive visual markers which indicate desired collective pitch and longitudinal cyclic positions throughout the entire maneuver, from autorotation entry to touchdown. A series of simulator flight experiments performed at University of Liverpool's HELIFLIGHT-R simulator are documented, in which pilots attempt autorotation with and without the pilot cueing system in both good and degraded visual environments. Performance of the pilot cueing system is evaluated based on both subjective pilot feedback and objective measurements of landing survivability metrics, demonstrating suitable preliminary performance of the system.
Recently Viewed Items
Popular Products