Improvements to Tandem-Rotor H-47 Helicopter Coupled CFD-CSD Full Aircraft Model
Edward Meadowcroft, Boeing; Rohit Jain, US Army
May 17, 2016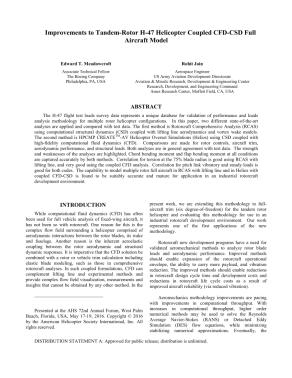 Improvements to Tandem-Rotor H-47 Helicopter Coupled CFD-CSD Full Aircraft Model
Presented at Forum 72
18 pages
SKU # : 72-2016-183

Your Price : $30.00

Join or log in to receive the member price of $15.00!
Improvements to Tandem-Rotor H-47 Helicopter Coupled CFD-CSD Full Aircraft Model
Authors / Details: Edward Meadowcroft, Boeing; Rohit Jain, US Army
Abstract
The H-47 flight test loads survey data represents a unique database for validation of performance and loads analysis methodology for multiple rotor helicopter configurations. In this paper, two different state-of-the-art analyses are applied and compared with test data. The first method is Rotorcraft Comprehensive Analysis (RCAS) using computational structural dynamics (CSD) coupled with lifting line aerodynamics and vortex wake models. The second method is HPCMP CREATETM-AV Helicopter Overset Simulations (Helios) using CSD coupled with high-fidelity computational fluid dynamics (CFD). Comparisons are made for rotor controls, aircraft trim, aerodynamic performance, and structural loads. Both analyses are in general agreement with test data. The strength and weaknesses of the analyses are highlighted. Chord bending moment and flap bending moment at all conditions are captured accurately by both methods. Correlation for torsion at the 75% blade radius is good using RCAS with lifting line, and very good using the coupled CFD analysis. Correlation for pitch link vibratory and steady loads is good for both codes. The capability to model multiple rotor full aircraft in RCAS with lifting line and in Helios with coupled CFD-CSD is found to be suitably accurate and mature for application in an industrial rotorcraft development environment.
Recently Viewed Items
Popular Products