Integrated Hybrid Structural Management System (IHSMS) - Aircraft Impact Monitoring
Eric Schenck, Mark Davis, Raymond Bond, Janette Meyer, David Rusk
May 8, 2017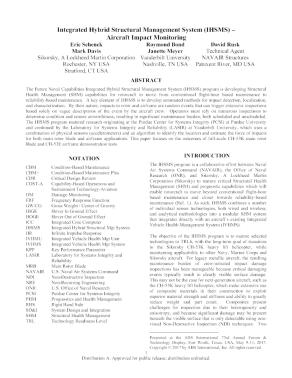 Integrated Hybrid Structural Management System (IHSMS) - Aircraft Impact Monitoring
Presented at Forum 73
9 pages
SKU # : 73-2017-0306

Your Price : $30.00

Join or log in to receive the member price of $15.00!
Integrated Hybrid Structural Management System (IHSMS) - Aircraft Impact Monitoring
Authors / Details: Eric Schenck, Mark Davis, Raymond Bond, Janette Meyer, David Rusk
Abstract
The Future Naval Capabilities Integrated Hybrid Structural Management System (IHSMS) program is developing Structural Health Management (SHM) capabilities for rotorcraft to move from conventional flight-hour based maintenance to reliability-based maintenance. A key element of IHSMS is to develop automated methods for impact detection, localization, and characterization. By their nature, impacts to rotor and airframe are random events that can trigger extensive inspections based solely on vague descriptions of the event by the aircraft crew. Operators must rely on numerous inspections to determine condition and ensure airworthiness, resulting in significant maintenance burden, both scheduled and unscheduled. The IHSMS program matured research originating at the Purdue Center for Systems Integrity (PCSI) at Purdue University and continued by the Laboratory for Systems Integrity and Reliability (LASIR) at Vanderbilt University, which uses a combination of physical sensors (accelerometers) and an algorithm to identify the location and estimate the force of impacts for both main rotor blade and airframe applications. This paper focuses on the outcomes of full-scale CH-53K main rotor blade and CH-53E airframe demonstration tests.
Recently Viewed Items
Popular Products