Investigation of UH-60A Rotor Structural Loads From Flight and Wind Tunnel Tests
Hyeonsoo Yeo, Mark Potsdam, US Army Aviation Development Directorate; Thomas Norman, NASA Ames Research Center
May 17, 2016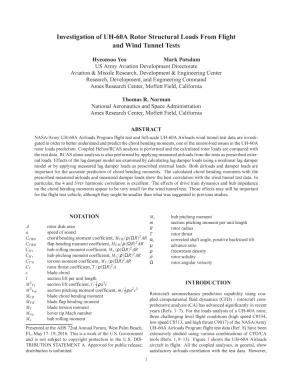 Investigation of UH-60A Rotor Structural Loads From Flight and Wind Tunnel Tests
Presented at Forum 72
21 pages
SKU # : 72-2016-109

Your Price : $30.00

Join or log in to receive the member price of $15.00!
Investigation of UH-60A Rotor Structural Loads From Flight and Wind Tunnel Tests
Authors / Details: Hyeonsoo Yeo and Mark Potsdam, US Army Aviation Development Directorate; Thomas Norman, NASA Ames Research Center
Abstract
NASA/Army UH-60A Airloads Program flight test and full-scale UH-60A Airloads wind tunnel test data are investigated in order to better understand and predict the chord bendingmoments, one of the unresolved issues in the UH-60A rotor loads prediction. Coupled Helios/RCAS analysis is performed and the calculated rotor loads are compared with the test data. RCAS alone analysis is also performed by applying measured airloads from the tests as prescribed external loads. Effects of the lag damper model are examined by calculating lag damper loads using a nonlinear lag damper model or by applying measured lag damper loads as prescribed external loads. Both airloads and damper loads are important for the accurate prediction of chord bending moments. The calculated chord bending moments with the prescribed measured airloads and measured damper loads show the best correlation with the wind tunnel test data. In particular, the 4 and 5/rev harmonic correlation is excellent. The effects of drive train dynamics and hub impedance on the chord bending moments appear to be very small for the wind tunnel test. Those effects may still be important for the flight test vehicle, although they might be smaller than what was suggested in previous studies.
Recently Viewed Items
Popular Products