New High-Performance Materials Tailored Specifically For Additive Manufacturing Processes
Jeff Grabowski, Tom Kozmel, QuesTek Innovations, LLC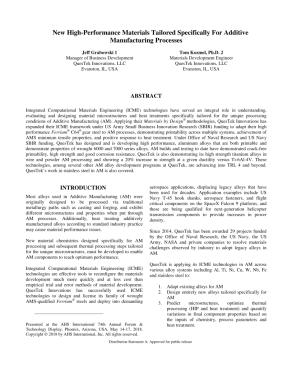 New High-Performance Materials Tailored Specifically For Additive Manufacturing Processes
Presented at Forum 74
5 pages
SKU # : 74-2018-1334

Your Price : $30.00

Join or log in to receive the member price of $15.00!
New High-Performance Materials Tailored Specifically For Additive Manufacturing Processes
Authors / Details: Jeff Grabowski, Tom Kozmel, QuesTek Innovations, LLC
Abstract
Integrated Computational Materials Engineering (ICME) technologies have served an integral role in understanding, evaluating and designing material microstructures and heat treatments specifically tailored for the unique processing conditions of Additive Manufacturing (AM). Applying their Materials by Design methodologies, QuesTek Innovations has expanded their ICME framework under US Army Small Business Innovation Research (SBIR) funding to adapt their high performance Ferrium C64 gear steel to AM processes, demonstrating printability across multiple systems, achievement of AMS minimum tensile properties, and positive response to heat treatment. Under Office of Naval Research and US Navy SBIR funding, QuesTek has designed and is developing high performance, aluminum alloys that are both printable and demonstrate properties of wrought 6000 and 7000 series alloys. AM builds and testing to date have demonstrated crack-free printability, high strength and good corrosion resistance. QuesTek is also demonstrating its high strength titanium alloys in wire and powder AM processing and showing a 20% increase in strength at a given ductility versus Ti-6Al-4V. These technologies, among several other AM alloy development programs at QuesTek, are advancing into TRL 4 and beyond. QuesTek's work in stainless steel in AM is also covered.
Recently Viewed Items
Popular Products