Performance and Acoustics of Small Rotors with Non-Uniform Blade Spacing
Matthew Floros, CCDC US Army Research Lab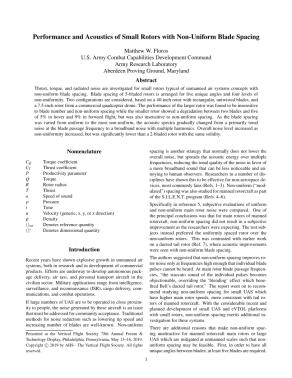 Performance and Acoustics of Small Rotors with Non-Uniform Blade Spacing
Presented at Forum 75
13 pages
SKU # : 75_2019_0350_Floros

Your Price : $30.00

Join or log in to receive the member price of $15.00!
Performance and Acoustics of Small Rotors with Non-Uniform Blade Spacing
Authors / Details: Matthew Floros, CCDC US Army Research Lab
Abstract
Thrust, torque, and radiated noise are investigated for small rotors typical of unmanned air systems concepts withnon-uniform blade spacing. Blade spacing of 5-bladed rotors is arranged for five unique angles and four levels ofnon-uniformity. Two configurations are considered, based on a 40-inch rotor with rectangular, untwisted blades, anda 7.5-inch rotor from a commercial quadcopter drone. The performance of the larger rotor was found to be insensitiveto blade number and non-uniform spacing while the smaller rotor showed a degradation between two blades and fiveof 5% in hover and 9% in forward flight, but was also insensitive to non-uniform spacing. As the blade spacingwas varied from uniform to the most non-uniform, the acoustic spectra gradually changed from a primarily tonalnoise at the blade passage frequency to a broadband noise with multiple harmonics. Overall noise level increased asnon-uniformity increased, but was significantly lower than a 2-bladed rotor with the same solidity.
Recently Viewed Items
Popular Products