Reconfigurable Flight Control Systems for a Tandem Rotor Helicopter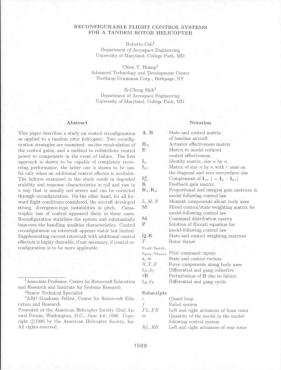 Reconfigurable Flight Control Systems for a Tandem Rotor Helicopter
Presented at Forum 52
20 pages
SKU # : 52_2_052



Your Price : $30.00

Join or log in to receive the member price of $15.00!
Reconfigurable Flight Control Systems for a Tandem Rotor Helicopter
Authors / Details: R. Celi and I-C. Shih, University of Maryland; and C.Y. Huang, Northrop Grumman Corp.
1
Recently Viewed Items
Popular Products