System Identification of a Meso-Scale Twin-Cyclocopter in Hover
Carl Runco, Moble Benedict, Texas A&M University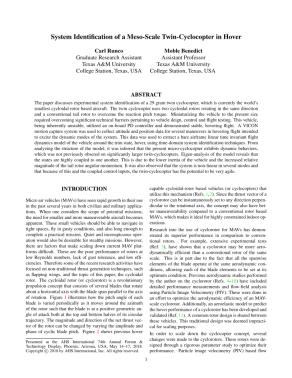 System Identification of a Meso-Scale Twin-Cyclocopter in Hover
Presented at Forum 74
10 pages
SKU # : 74-2018-1283

Your Price : $30.00

Join or log in to receive the member price of $15.00!
System Identification of a Meso-Scale Twin-Cyclocopter in Hover
Authors / Details: Carl Runco, Moble Benedict, Texas A&M University
Abstract
The paper discusses experimental system identification of a 29 gram twin cyclocopter, which is currently the world's smallest cycloidal rotor based aircraft. The twin cyclocopter uses two cycloidal rotors rotating in the same direction and a conventional tail rotor to overcome the reaction pitch torque. Miniaturizing the vehicle to the present size required overcoming significant technical barriers pertaining to vehicle deign, control and flight testing. This vehicle, being inherently unstable, utilized an on-board PD controller and demonstrated stable, hovering flight. A VICON motion capture system was used to collect attitude and position data for several maneuvers in hovering flight intended to excite the dynamic modes of the system. This data was used to extract a bare airframe linear time invariant flight dynamics model of the vehicle around the trim state, hover, using time-domain system identification techniques. From analyzing the structure of the model, it was inferred that the present micro-cyclocopter exhibits dynamic behaviors, which was not previously obsered on significantly larger twin-cyclocopters. Eigen-analysis of the model reveals that the states are highly coupled to one another. This is due to the lower inertia of the vehicle and the increased relative magnitude of the tail rotor angular momentum. It was also observed that the system is non-linear in several modes and that because of this and the coupled control inputs, the twin-cyclocopter has the potential to be very agile.
Recently Viewed Items
Popular Products