Testing Mobile Aircrew Restraint Systems in a Full-Scale CH-46 Airframe Crash Test — Exploring the Limits
Lindley W. Bark, Naval Air Warfare Center Aircraft Division
May 17, 2016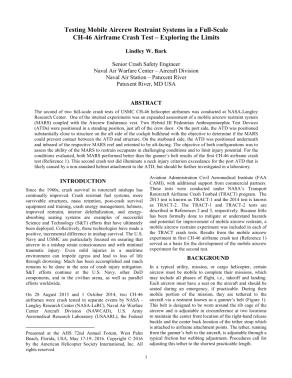 Testing Mobile Aircrew Restraint Systems in a Full-Scale CH-46 Airframe Crash Test — Exploring the Limits
Presented at Forum 72 - Best Paper for this session
12 pages
SKU # : 72-2016-332

Your Price : $30.00

Join or log in to receive the member price of $15.00!
Testing Mobile Aircrew Restraint Systems in a Full-Scale CH-46 Airframe Crash Test — Exploring the Limits
Authors / Details: Lindley W. Bark, Naval Air Warfare Center Aircraft Division
Abstract
The second of two full-scale crash tests of USMC CH-46 helicopter airframes was conducted at NASA-Langley Research Center. One of the internal experiments was an expanded assessment of a mobile aircrew restraint system (MARS) coupled with the Aircrew Endurance vest. Two Hybrid III Pedestrian Anthropomorphic Test Devices (ATDs) were positioned in a standing position, just aft of the crew door. On the port side, the ATD was positioned substantially close to structure on the aft side of the cockpit bulkhead with the objective to determine if the MARS could prevent contact between the ATD and structure. On the starboard side, the ATD was positioned underneath and inboard of the respective MARS reel and oriented to be aft-facing. The objective of both configurations was to assess the ability of the MARS to restrain occupants in challenging conditions and to limit injury potential. For the conditions evaluated, both MARS performed better than the gunner's belt results of the first CH-46 airframe crash test (Reference 1). This second crash test did illuminate a neck injury criterion exceedance for the port ATD that is likely caused by a non-standard helmet attachment to the ATD, but should be further investigated in a laboratory.
Recently Viewed Items
Popular Products