The Art of Flight: A Celebration of a Century of Aeronautical Achievement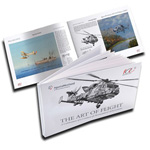 The Art of Flight: A Celebration of a Century of Aeronautical Achievement
SKU # : b_9780993244407


List Price : $35.00

Your Price : $35.00

Join or log in to receive the member price of $30.00!
The Art of Flight: A Celebration of a Century of Aeronautical Achievement
Authors / Details: This commemorative book celebrates Westland's century of aeronautical achievement through a unique and inspiring collection of paintings and images of its aircraft through the decades.
The publication begins with the Short 184 and explores everything up to the AW189.
All the proceeds from the sale of this book will be donated
to the two Westland Centenary Charities,
'Blind Veterans UK'
and the
'Yeovil Opportunity Group'
. Blind Veterans UK helps veterans to recover their independence and lives beyond sight loss. Yeovil Opportunity Group is a local charity based in Yeovil UK that provides respite care and special provisions for families and children with additional needs. Suppor to these two charities is at the heart of the Westland Centenary celebrations.
Publisher: AgustaWestland, A Finmeccanica Company, 2015
Softcover, 88 pages
Weight:
1.1 pounds
ISBN-10:
0993244408
ISBN-13:
978-0993244407
Recently Viewed Items
Popular Products