Contact:
Mike Hirschberg
703-684-6777
Vertical Flight Society Applauds NASA's Mars Helicopter Selection
Builds on 25 Years of Vertical Flight Research
Fairfax, Virginia, May 14, 2018 (updated June 13, 2018)
AHS International — The Vertical Flight Society applauds the recent announcement by the US National Aeronautics and Space Administration (NASA) that it will develop a small unmanned helicopter to explore the surface of Mars: "The Mars Helicopter, a small, autonomous rotorcraft, will travel with the agency's Mars 2020 rover mission, currently scheduled to launch in July 2020, to demonstrate the viability and potential of heavier-than-air vehicles on the Red Planet."
NASA announced its plans on May 11, 2018 to launch the Mars helicopter and described the project: "Started in August 2013 as a technology development project at NASA's Jet Propulsion Laboratory (JPL), the Mars Helicopter had to prove that big things could come in small packages. The result of the team's four years of design, testing and redesign weighs in at little under four pounds (1.8 kilograms). Its fuselage is about the size of a softball, and its twin, counter-rotating blades will bite into the thin Martian atmosphere at almost 3,000 rpm – about 10 times the rate of a helicopter on Earth."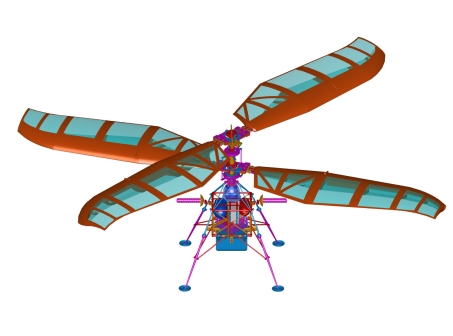 However, the idea for a Mars rotorcraft is not new, having been studied for more than twenty-five years, with the first paper published in 1993. Interest at NASA Ames picked up in the late 1990s, and the agency suggested that the 1999-2000 AHS Student Design Competition topic be for the "Development of Rotary-Wing Technologies for Use in Mars Exploration." The competition, sponsored by Sikorsky Aircraft and supported by NASA, was "to develop an autonomous rotorcraft for exploration of Mars. The mission was to be a proof-of-concept demonstration for rotary wing flight in the Martian atmosphere."
The winners of the graduate competition, announced in August 2000, were the Georgia Institute of Technology and the University of Maryland. The UMD proposal, the Martian Autonomous Rotary-wing Vehicle (MARV), was designed by a team led by Anubhav Datta, now an associate professor at Maryland.
The similarities between the 2000 AHS-UMD MARV and the 2018 NASA Mars Helicopter, both with two-bladed coaxial rotors on a square fuselage, are primarily superficial, but interesting nonetheless. Prof. Datta today recalls that the AHS Student Design Competition "generated the first serious detailed designs" of an aircraft capable of vertical flight in the thin atmosphere of Mars. While working as a researcher at the Ames Research Center (2007-2015), Datta also worked on the NASA Mars Helicopter development (2015-2017). "I certainly credit my expertise on Mars and my involvement in this project to that design."
The 113-page University of Maryland proposal that won the 2000 AHS Student Design Competition is still available on the SDC website. While there are many similarities, the sizes are quite different: the real Mars Helicopter is 4 lb / 1.8 kg, much smaller than the 50 kg that UMD designed nearly 20 years ago, and the hubs are hingeless not teetering. [A synopsis of the Maryland AHS report was later published in the Journal of Aircraft, v30, (3), 2003.]
Over the years, NASA, Georgia Tech and University of Maryland have made several presentations at AHS events in support of the Mars Helicopter concept, including:
Design Opportunities and Challenges in the Development of Vertical Lift Planetary Aerial Vehicles, Young, L.A., et al, Presented at the AHS Vertical Lift Aircraft Design Conference, San Francisco, CA, January 2000.
Vertical Lift -- Not Just For Terrestrial Flight, Young, L.A., Presented at the AHS/AIAA/SAE/RaeS International Powered Lift Conference, Arlington, VA, Oct. 30-Nov. 1, 2000.
Experimental Investigation and Demonstration of Rotary-Wing Technologies for Flight in the Atmosphere of Mars, Young, L. A.; Aiken, E. W.; Derby, M. R.; Demblewski, R.; Navarrete, J., Presented at the 58th Annual Forum of the AHS International, Montreal, Canada, June 11-13, 2002.
Engineering Studies into Vertical Lift Planetary Aerial Vehicles, Larry A. Young, Edwin W. Aiken, et. al, Presented at the AHS International Meeting on Advanced Rotorcraft Technology and Life Saving Activities, Utsunomiya, Tochigi, Japan, Nov. 11-13, 2002.
Why Helicopters Can and Should Fly on Mars, Daniel Schrage, AHS Technical Conference on Unmanned Rotorcraft, Jan. 24-26, 2017.
Generation of Mars Helicopter Rotor Model for Comprehensive Analyses, Witold J. F. Koning, Wayne Johnson and Brian G. Allan, Presented at the AHS Specialists' Conference on Aeromechanics Design for Transformative Vertical Flight, San Francisco, California, USA, Jan. 16-18, 2018.
Vacuum Chamber Testing of 1.5 Foot Diameter Mars Rotor, Daniel Escobar, Inderjit Chopra, Anubhav Datta, Presented at the AHS Technical Conference on Aeromechanics Design for Transformative Vertical Flight, San Francisco, CA, Jan. 16–19, 2018.
The Vertical Flight Society's Student Design Competition continues today, with final proposals due on May 31, 2018, for the 35th Annual Student Design Competition, "A Reconfigurable VTOL Aircraft," sponsored by the US Army Research Laboratory.
This week, the Vertical Flight Society is holding its 74th Annual Forum & Technology Display in Phoenix, Arizona, May 14-17. The graduate and undergraduate winners of the 34th Annual Student Competition for a "24 Hour Hovering Machine Conceptual Design" — both University of Maryland teams — will present their concepts on Tuesday, May 15, beginning at 11:00 am at the Phoenix Convention Center.
This year, the Vertical Flight Society celebrates its 75th anniversary. It was incorporated as the "American Helicopter Society" (AHS) on June 25, 1943 by the early pioneers of the helicopter industry to advance vertical flight through technical collaboration and knowledge sharing. The Society has a proud legacy of successfully advocacy for advanced VTOL research and development for civil and military applications, as well as inspiring the next generation of helicopter and VTOL engineers through a wide range of student programs, including scholarships, design competitions and other leadership and technical opportunities.
AHS International — The Vertical Flight Society
2701 Prosperity Avenue, Suite 210, Fairfax, VA 22031 USA
phone: 1-703-684-6777; toll free: 1-855-AHS-INTL; fax: 1-703-739-9279
email: staff@vtol.org; website: www.vtol.org