Please send comments to the Vertiflite editor and let us know what you think!
The January-February 2018 issue of Vertiflite is now available! Members can log in and read the current and back-issues of Vertiflite for free. Go to Vertiflite Online and log in to flip through all issues since 2011. Or, you can go to the world's most extensive Vertical Flight Library in the AHS Online Store and download the pdf for this or any of our issues back to 1953! We have 63+ years of the world's leading vertical flight technology magazine available online — nearly 800 issues.
Browse by year or search our comprehensive index of every Vertiflite article ever. All issues are available for free download for AHS Members, no matter when you joined. Non-members can purchase pdf issues for $50 each (less for older issues). If you aren't a member, join today!
Featured In This Issue: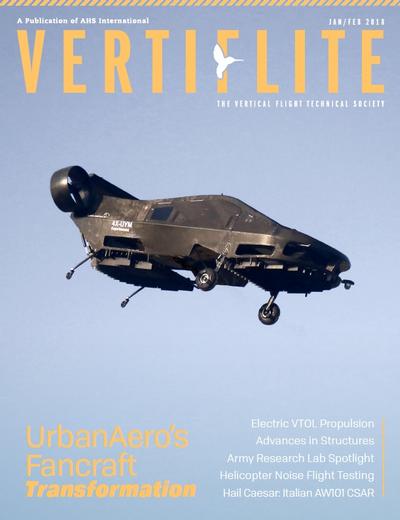 Letters to Vertiflite
Commentary: 75 Years of Advancing Vertical Flight [pdf]
Washington Report
Leadership Moves
Industry Briefs
VFF Scholar Spotlight: Nathan Tappendorf
The Army Research Lab (ARL) Looks to the Future of Vertical Flight
US Government Conducts Flight Testing to Prove Noise Prediction Models [pdf]
Turkey's Indigenous Helicopter Programs — The TAI T625 and Beyond
Electric VTOL News (html) [pdf]
Hail Caesar — The Italian Air Force's HH-101A Personnel Recovery Variant
AHS Structures Meeting: Tempered Vertical Lift
AHS Conference Report: Australia Holds Navy Aviation Symposium
AHS Conference Report: Japan Hosts Successful 6th ARF
Rotary-Wing History and the Main Line Airport
Leadership Profile: Prof. George Barakos, University of Glasgow
AHS Update
Download and read the latest issue of Vertiflite today!
About our Cover
The Urban Aeronautics Cormorant has been flying since 2009. It is currently completing upgrades, including a more powerful Safran Arriel 2S2 engine. See pg. 34. (Urban Aeronautics photo.)
---
Posted Dec. 30, 2017